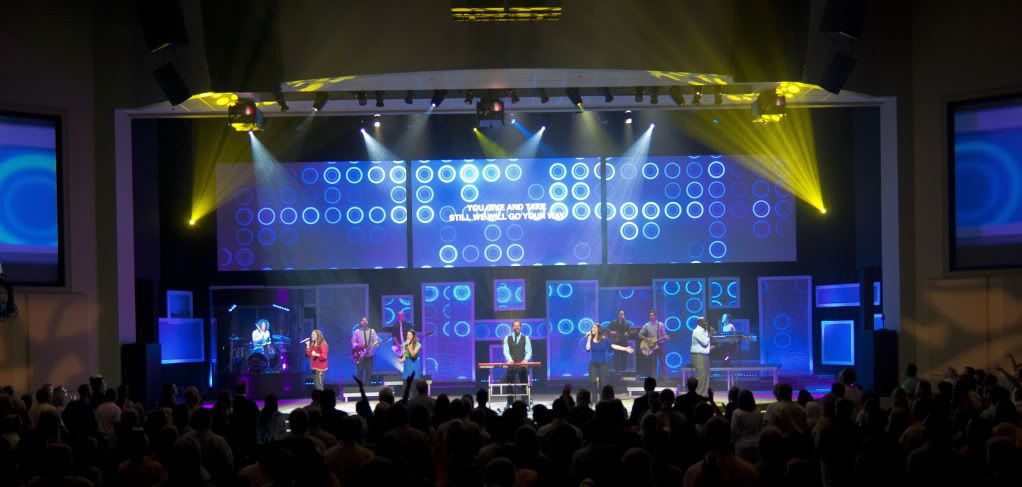 No matter what your priorities for lighting your stage, you should always make sure that you are doing a few key things.
1. Light the Talent
Whether that person be the Pastor, worship leader or band, make sure they are all well lit. Most of us have been in a situation where the speaker constantly walked in and out of shadows and know how distracting that can be. At Highlands, this means that our speakers are lit with 14 Source Four ellipsoidal fixtures for front and side light and with 3 Source Four pars for backlight. Each band member is lit from the front with two Source Four ellipsoidal fixtures and a Source Four par for backlight. They are all gelled with Lee 201.
2. Light the Set
In a novel, character development is key, but so is setting the stage for the story that is unfolding. What would Lord of the Rings be without The Shire? By lighting the set, you are giving the band and the Pastor a place for the message to be presented. Even if you don't have an elaborate set, you can shine gobos on a wall to add texture or up light an architectural element of the wall. Don't put this ahead of lighting the talent though! A trick I learned is to squint my eyes and look at the stage. If the first thing I notice is the speaker then I've done a good job. Is the set or the video screen is dominant, then I need to make some adjustments.
3. Enhance the Atmosphere
This is the time to have some fun! Add gobo textures on the walls of the auditorium. If you're using moving lights, turn on a hazer (check fire alarms first!) and let them move a bit. Throw some color onto a wall. Do whatever you can do to add to the worship experience a bit to make it better, not to distract.
Our jobs as lighting directors are to make sure that the Gospel is communicated in an environment free of distractions. Just because lights can move, doesn't mean that they should. Just because a light can change colors, doesn't mean we should cycle through every color of the rainbow! Determine the feel of your church and follow a few simple guidelines and exercise a bit of restraint when programming. This will put you on the right track to enhancing the worship experience at your church.